The Society get-together at AG Place!
On July 12, 2003, six Society members met up in person at American Girl Place in Chicago! I think I am safe in saying a good time was had by all. The six people were Ann (Society founder) and Katie from Michigan, Joy and Jecca from Illinois, Tracy from Wisconsin, and Brittany from Kentucky. Also making the trip were Ann's Samantha, Katie's Kirsten, Jecca's Nellie, Tracy's Kit, and Sophie the traveling doll, who belongs to another Society member, Liz.
Katie, Tracy, and Jecca met up earlier in the morning for brunch at the American Girl Place cafe. Later in the morning, the 6 of us met up on the historical dolls' floor downstairs. It was fun just to meet everyone, see what they looked like, and chat for the first time face to face. Here are a couple pictures: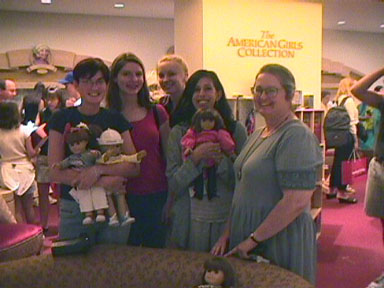 left to right: Tracy, Brittany, Katie, Jecca, Joy.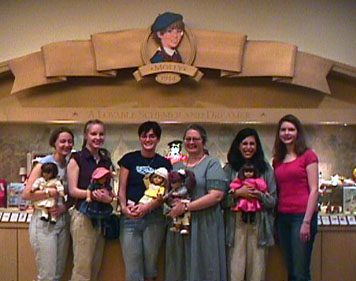 Ann, Katie, Tracy, Joy, Jecca, and Brittany block traffic while an AG employee takes pics on 6 cameras.


Unfortunately, Joy and Brittany could not stay as long as the rest of us. I am very glad they could make it, though! The rest of us browsed around the historical, AGOT, Bitty Baby, and Angelina sections. I think the phrase we found ourselves saying the most was "Oh that is so cute!" Here are a couple more pictures:


Browsing in the Bitty Baby room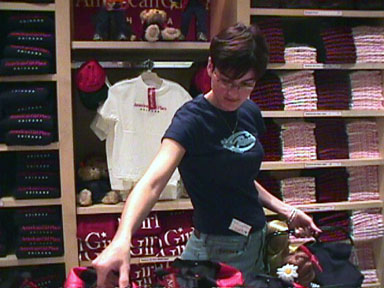 Tracy looks at the adorable doll-sized AG Place backpacks.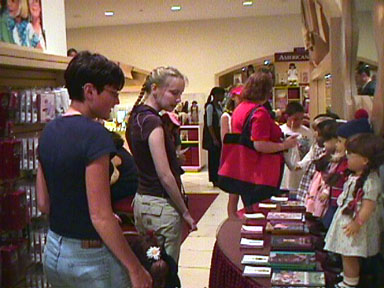 Looking at short story outfits


A couple interesting things happened to us while on the historical dolls' floor. First was that the general manager, who was mingling with customers, approached our group and asked how we were doing. After a few comments about the store and the cafe, Joy said that Felicity and her retired items should be brought back. The manager said that the company was actually researching alternative materials for making some of her retired items and assessing the feasibility of bringing some of them back. He said that he agreed something should be done, because he didn't like seeing girls coming into the store and being bitterly disappointed by the absence of Felicity. Let's hope this is true and things get better for Felicity!
Also, Jecca happened to know one of the personal shoppers, and asked if our group could go in the back and get a sneak peek of Kailey, who was going to be displayed at the store starting two days later. While we were there, personal shoppers were going throughout the store with pictures of Kailey, telling potential customers all about her, but Jecca managed to get us into the back to see her in real life! We all thought she was very cute. Thanks, Jecca!
Katie, Tracy, and I (Ann) wound up our day by making a few purchases: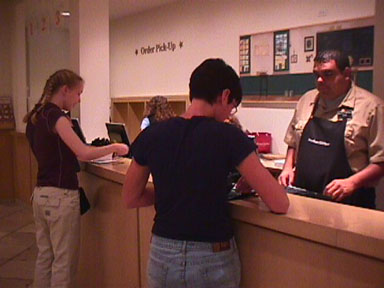 Paying for purchases


Jecca took a picture of us with our red American Girl place bags--which are something you see all over Chicago, by the way. The store even has miniature doll-sized ones now! So Samantha and Sophie were pretty pleased to be able to carry their own bags, too.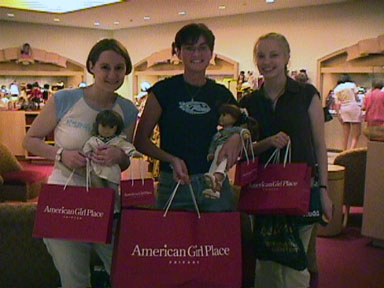 Ann, Tracy, and Katie sport their red shopping bags--so do Samantha and Sopie!


I had a great time sharing American Girl Place with others who love it just as much as I do, and I hope it can happen again sometime in the future! Just so everyone else can get a peek at the place, here are some more pictures of displays at the store. Sorry for their small size and general low quality--all the pictures on this page were taken with my digital camera, which is an old clunky hand-me-down.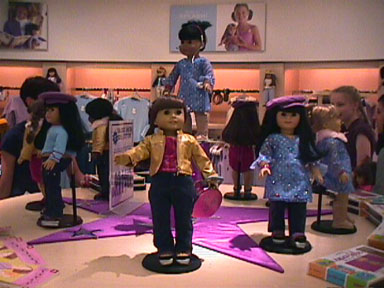 The newest AGoT outfits--the talent show mix and match




Felicity gets a little respect with this shelf dedicated to her.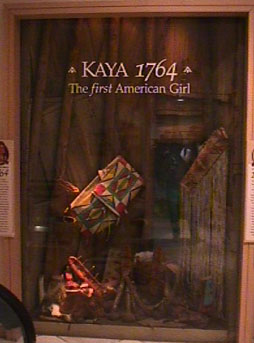 Kaya's life size display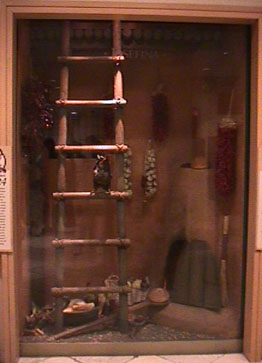 Josefina's life size display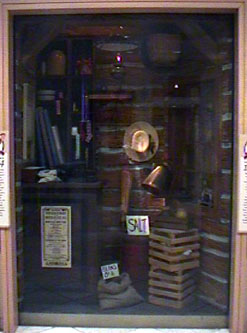 Kirsten's life size display: The general store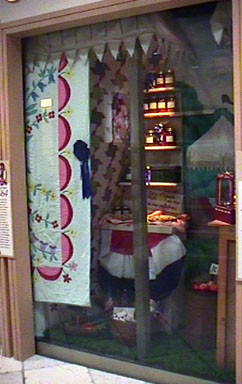 Addy's life size display: The church fair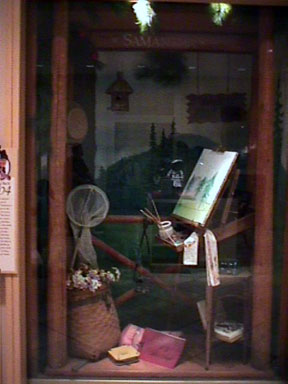 Samantha's life size display: Piney Point porch




Kit's life size display: The attic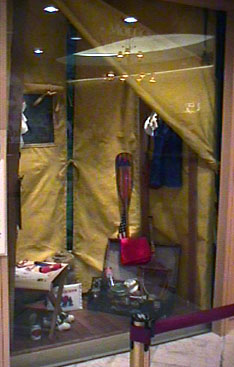 Molly's life size display: Camp Gowanagin tent




Back to the links page
Back to newsletter #16