Online Newsletter #5
July 2002
American Girl is coming out with a lot of new products this fall, and you can find out about them here, in The Society of American Girl Collectors online newsletter!

Pleasant Company to Introduce New Line of Books and Dolls
Society Member Meg comes up with big news this month. According to an article from news.bookweb.org, Pleasant Company will be releasing a series of books and 9" dolls called "Girls of Many Lands." Here's what the article has to say: "From the Pleasant Company, in October, comes the first five books in a new series, which includes both books and related nine-inch dolls. More concerned with culture than history, Girls of Many Lands features 12-year-old heroines whose problems will resonate with girls today. Isabel: Taking Wing, a girl in England in 1592; CÚcile: Gates of Gold, in France in 1711; Spring Pearl: The Last Flower, in China in 1857; Minuk: Ashes in the Pathway, from Yup'ik, Alaska, in 1890; and Neela: Victory Song, in India in 1938 all promise to inform and enthrall girls ages nine to 12." The release date given at
Barnes & Noble's website
says September 1, not October, and
isbn.nu
says August 1. If you look on the Barnes & Noble site you will also find very short synopses for some of the books. The book covers can be found on the Barnes & Noble site.

Kaya Doll Revealed!
Society Member Brittany also comes up with big news for us. She found a website,
www.childrenslit.com/f_jshaw.html
which has questions and answers written by Janet Shaw and the Nez Perce advisory board which helped her create Kaya's books. The website also contains a picture of Kaya and a few of her accessories! I've included the photo below. It looks like Kaya will have a tent as one of her accessories. One month and we'll know what they all are! Thanks Brittany!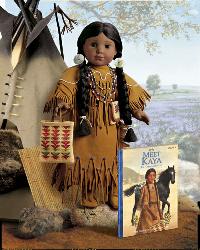 Society member Sarah found these tidbits: That the Kaya series will have a first printing of 925,000, and the Girls of Many Lands series will have a first printing of 590,000. She also found a picture of Janet Shaw and Laurence Yep, author of Spring Pearl's book, debuting Pleasant Company's new lines at a show. They are on the right.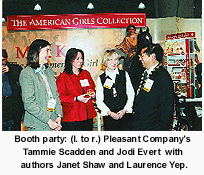 Other New Dolls this Fall
Besides the Girls from Many Lands series, there will be at least two more non-American Girls Collection dolls released by Pleasant Company. They are the Bitty Twins. One is a boy and one is a girl. They are about toddler age and have hair, unlike Bitty Baby. Below are a couple of pictures from
Master Collector Online
. Apparently they will come with Bitty Bears and books just like Bitty Baby.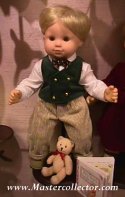 Last Kaya Clue from Americangirl.com
Clue #8: She is challenged by learning to weave a basket.

Visit to American Girl Place Yields Surprises
On June 24th, I was fortunate enough to be able to visit American Girl Place in Chicago. While looking at the Girl of Today display cases, I was surprised to see some new outfits and accessories that have not appeared in a catalog yet. As some of you may know, there are store-exclusive doll outfits including American Girl Place jackets, hats, and shirts, as well as a white overall-bibs outfit and an outfit from the theater production, but these other outfits and accessories were mixed in with the regular Girl of Today display. The outfits included a Wood Fairy Halloween costume, an underwear set of panties and undershirt, and a new pastel-colored school outfit. The new accessories were two school sets which included a new backpack, lunch, laptop, and a few other things. Additionally, some tennis shoes and slippers with teddy bear heads on them were available separate from outfits. There were also a fair number of doll hair accessory sets, and one girl-sized hair accessory set was packaged in a clear backpack just the right size for a doll. I'm pretty sure the new outfits and accessories will be in the next catalog, but I'm not sure if the shoes, slippers, and hair accessories will be. I must say that I was quite impressed with the Girl of Today outfits and accessories I saw, which I felt were even nicer and cuter in real life than in the catalog.
Regarding the historical girl collections, it was a little sad to see classic accessories missing from their "complete" collection display cases. However, there were a couple items still in the cases which have disappeared from the website and catalog, including Felicity's nightgown and Kirsten's Fourth of July Fun. They were available at full price, which is a good sign, because most discontinued items go on sale first. However, it's impossible to tell how long these items will remain in the cases. (If anyone is wondering about the status of a certain item, you should call the catalog number, and they will tell you the availability of that item.) One thing I really liked were display cases showing a life-sized example of each girl's world: a stable for Felicity, a rancho kitchen for Josefina, Mr. Berkhoff's General Store for Kirsten, a church fair for Addy, the porch at Piney Point for Samantha, the attic for Kit, and inside a camp Gowanagin tent for Molly. The display cases were only about 5 feet across, but what was really neat was that in a couple of them, there were life-size accessories that looked like they had probably been the original models for the dolls' accessories when they were first designed. For example, in Kit's scene, there were old 1930's school supplies and a lunchbox which match Kit's accessories. In Samantha's scene there was a wicker backpack and a flower press like hers. They had also enlarged some of the 2D accessories, like Kit's "Hard Times News" and Molly's letter to her dad from camp, to make them life-size. I would have liked it if there had been several more of these scenes for each character!
Even though I didn't see the musical or eat in the cafe, I still felt that going to American Girl Place was a special experience. It is only too bad that my chance to go there came just a short 5 weeks before all the new dolls, accessories, books, and products lines come out!



Newsletter Archives

Do you have a tidbit you think might belong in our newsletter?
Submit it!